Winner of the $5000 Stencil Art Prize Announced
Guatemalan artist Tinku wins $5000 Stencil Art Prize
Guatemalan artist Tinku has won the 2016 Stencil Art Prize with his haunting stencil painting 'Tributo' which pays homage to the indigenous women of Guatemala. The winner was announced to a packed room on Sunday 11th September, at the launch of Sydney Fringe Festival's Off Broadway Hub.
"I don't take this as an individual recognition," said Tinku who accepted his Prize via a video speech. "This is also a homage and a way to give more visibility to the struggle of the Guatemalan people. "
Tinku's painting is of a photograph that his father took of a Quiche woman, who walked amongst the morning mist on 16 May 1999. The 16 May 1999 marks the date of a constitutional referendum held in Guatemala which included four questions that were suggested in the Peace Accords. 
Tinku's portrait consists of aerosol on canvas, and also features salt and soil gathered from Bosnia-Herzegovina, South Africa, El Salvador, Guatemala and other places hit by State violence and discrimination. Read more about Tinku here.
Congratulations to our three Highly Commended Artists
Left to right below: Mod Cardenas (Guatemala), Tiera Boo (Australia) and  Mark Callaghan (Australia). All artworks are for sale at our online shop here.

FREE GUIDED TOURS
2pm, Sat 17 Sept

Shanta

(2016 Finalist). Please allow 45mins for the guided tour
Limited spaces, bookings compulsory toinfo@stencilartprize.com
Address: 76 Pyrmont Bridge Road Camperdown (Sydney)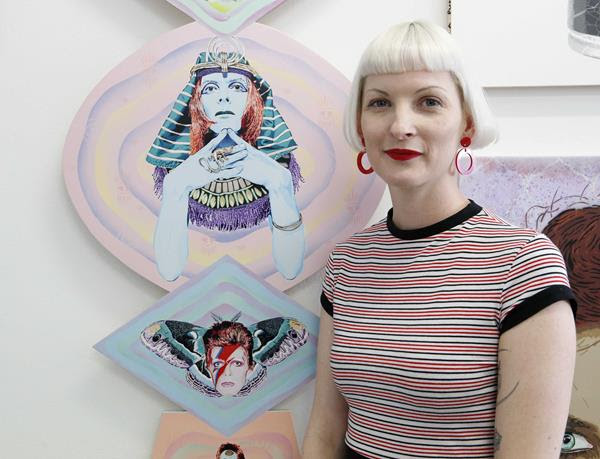 FREE GUIDED TOURS
2pm, Sat 24 Sept

Tiera Boo
(2016 Highly Commended Artist). Please allow 45mins for the guided tour
Limited spaces, bookings compulsory toinfo@stencilartprize.com
Address: 76 Pyrmont Bridge Road Camperdown (Sydney)
STENCIL ART PRIZE EXHIBITION OPEN

WEDS - SUN, 11am - 6pm
5 - 25 September 2016
Off Broadway Hub, Sydney Fringe Festival
76 Pyrmont Bridge Road, Camperdown 
info@stencilartprize.com
phone: +61 422 033 055